Review de: The Greatcoat Troopers from Wargames Factory
Segue um review desses troopers que achei na net, espero que gostem ^^
Fonte:
http://www.40kforoldmen.com/viewtopic.php?f=91&t=1302
So I decided to purchase the Shock Troops (Greatcoat Troopers) from Wargames Factory. I was particularly interested in how convertible they would be into the world of 40k. But I thought I would take the time to do a little review on them… so…
First off you get your Greatcoat Troopers in a un-celofaned box with no instruction and no-bases. Now I'm taken to believe no-bases is the norm for Wargames Factory, but being GW's hoe for so long I found it a little odd given the box shows them on bases. It did make me think they could have fallen out of the un-celofaned box, anyway after looking over the box for any note on whether there should have be bases I noticed there was a note saying you get "Assembly instruction and tool suggestions" though this must have fell out as I did not get any. But on both counts its note the end of the world, bases are ten a penny and the models are a no-braner to put together.
Though one must note there products are packed and shipped by Triangle Inc., a great organization worth supporting…
http://www.Triangle-inc.org
.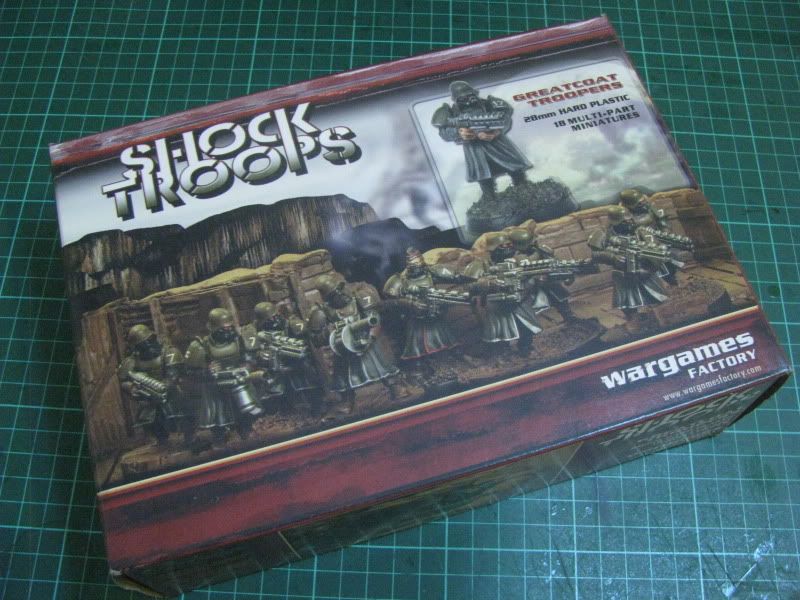 So what's in the box, well 6 identical sprues containing 18 multi part models at 28mm scale. Now unlike, let's say IG by GW you're getting 18 IG like models instead of 10 real IG models for about the same price. More for your buck can't be sniffed at that's for sure, but better still if you're looking to have your own FW Death Korps looking army your savings on troops will let you get those FW Centaur you want as well!
One thing I will note before moving on their sprues have a very nice way of stacking, now this may not seem all that important, but who has not broken a model part in there time untangling two or more sprues. Nice touch indeed Wargames Factory.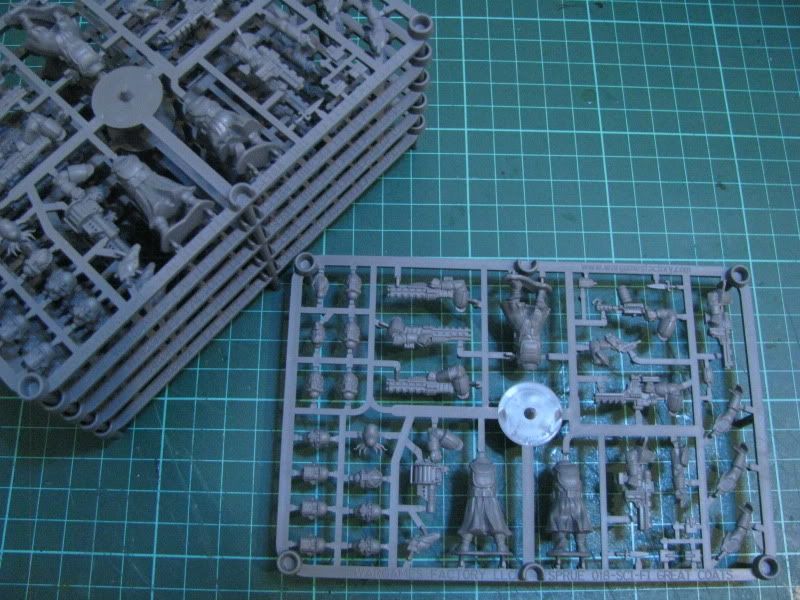 And what's on the sprue then, well first off here's what the "fun" was all about… it's Zoidberg
Here's a closer look at the sprues for you all -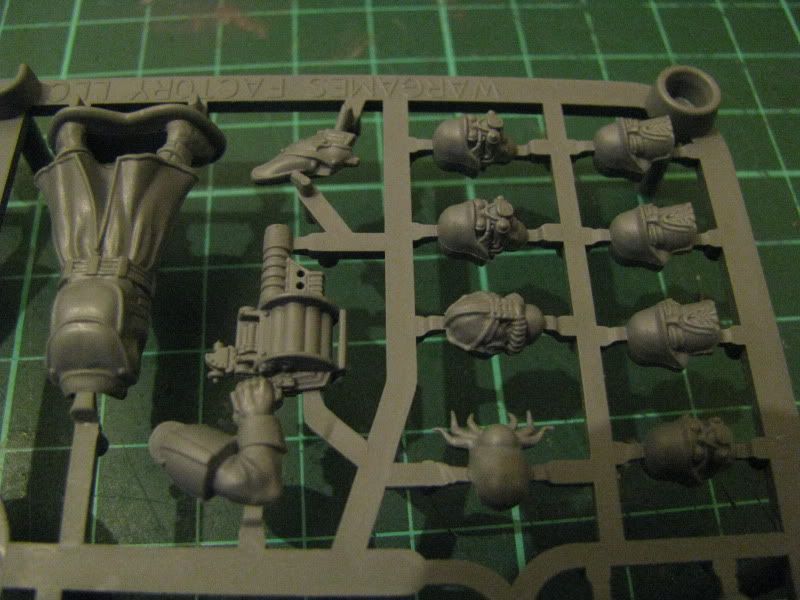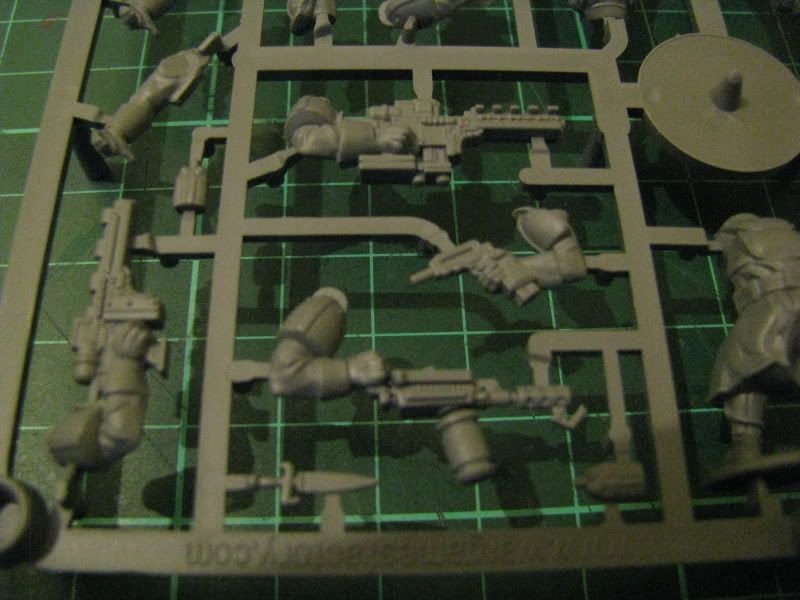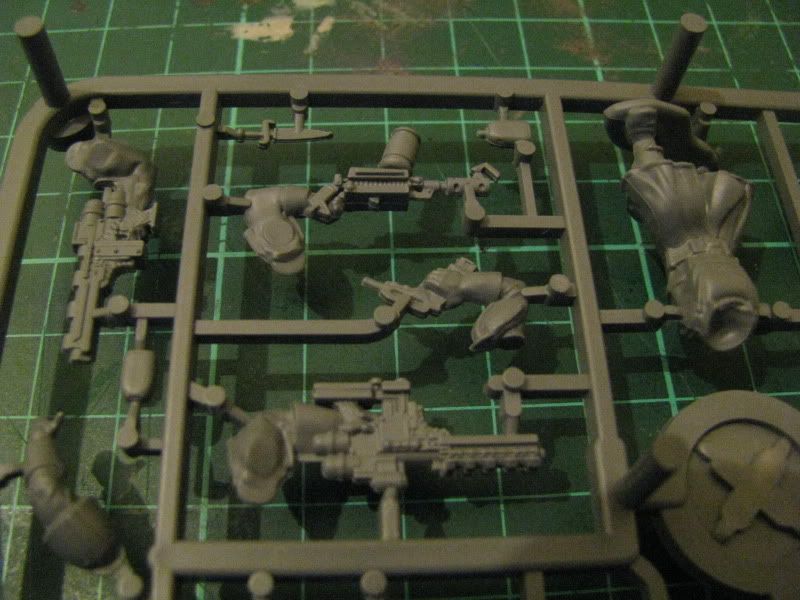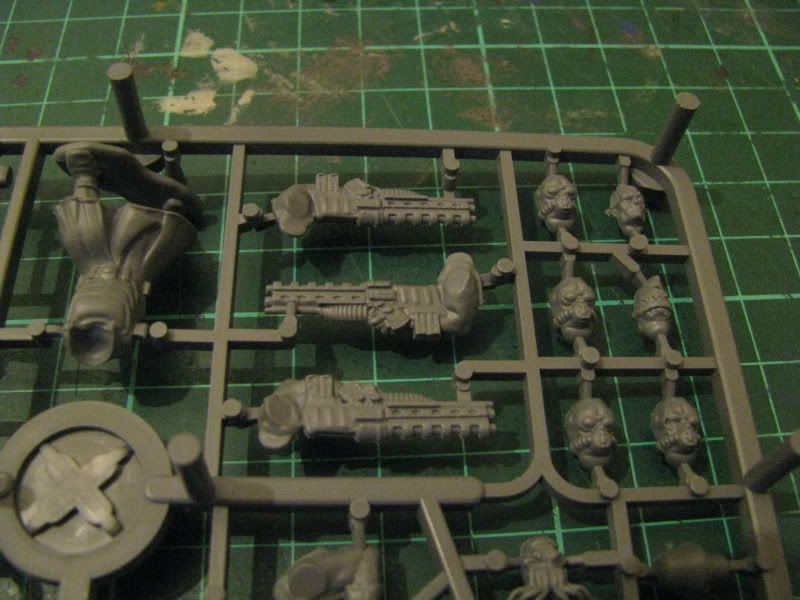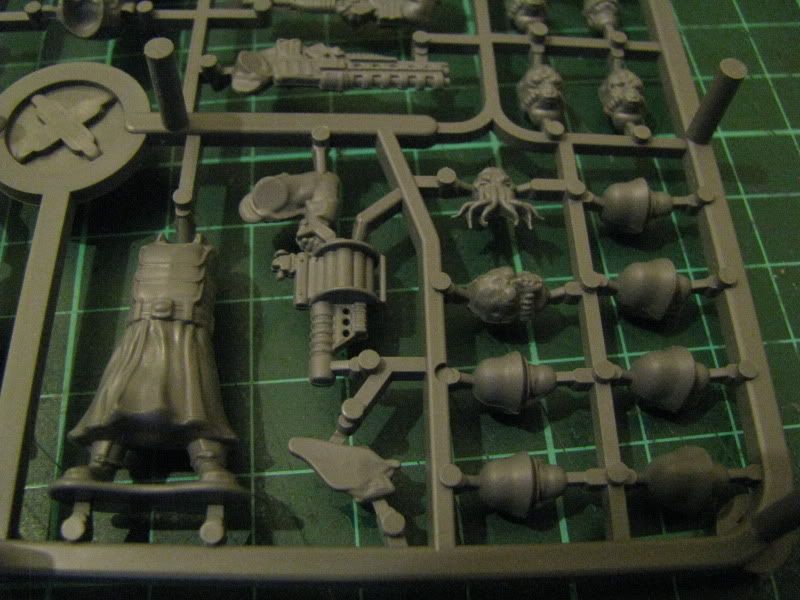 Now I am someone who harps on about Games Workshop being the best plastics money can buy and yes if I think it's worth double the price I will pay for GW quality every time.
So are these as good as GW plastics… the short answer is NO but one day they soon will be…
Now to credit Wargames Factory you're getting a kit with 228 bits over 18models. 84 of these bits are heads (14 to a sprue). 48 equipment bits (8 to a sprue, 2 knifes, 2 water bottles, 3 ammo pouches and one pistol pouch). 78 parts are arms and 18 are bodies with legs.
In comparison the GW IG kit has 98 bits over 10men. 14 of these bits are heads, 30 equipment bits. 34 parts are arms with 10 chest and 10 legs go into making the bodies.
You could look at this as you're getting 12.6 worth of bits to GW' 9.4 bits per model but one must remember your getting 84 heads with the Greatcoat Troopers. That's a lot of head in anyone's book… 60 more than was needed in my book (4 per sprue). Oddly, taking away the extra heads give you a rate of 9.3 bits per model but there is 18 models.
So all in all your getting similar bits rate per model as GW IG, this said I would have been more happy to see more equipment bits instead of all those heads myself, for that matter they could have ditched the knifes, water bottles and ammo pouches along with the extra heads and split the guns from the arms instead. This would have given them way more compatibility with other model ranges guns like GW for example!
Though looking at the Greatcoat Troopers a different way you get more than enough extra flames and Gr launchers to do your IG command SQ' with and with such long coats why would you need lots of extra equipment bits. All in all the Greatcoat Troopers are value for money you get 18 for about the same price you get 10 GW IG… or 36 for the same price as 10 FW Death Korps.
They are nice models and defiantly worth a look, and just like other company's out there Wargames Factory is only a little bit behind GW for quality and I do firmly believe before long their quality will out strip that of GW!
As things are now the Greatcoat Troopers are the best poor man's answer to a FW Death Korps army and a more than suitable substitute models for a GW IG army. But I must confess I think there a converters dream and I can't wait to get down and dirty with them… look out for the post